33 Sorcerer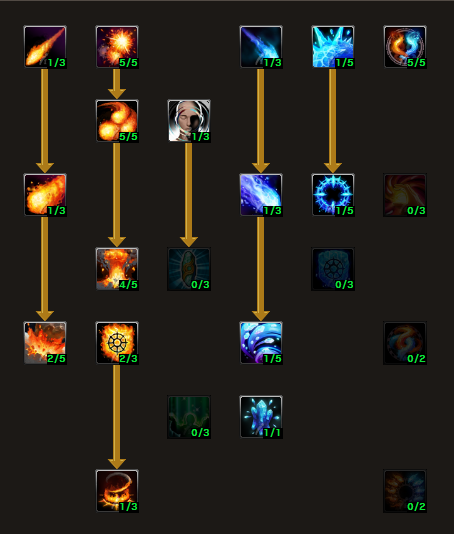 2 Cleric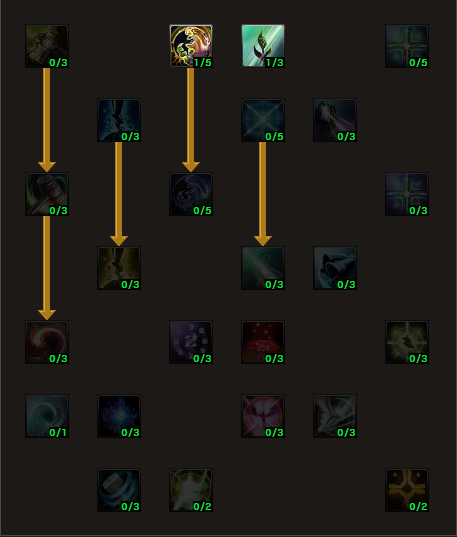 Tier 1
Flame Arrow 1/3
No need to go further with this skill. It's your default skill. It increases your magical damage upon hit as a buff.
Rapid Blasts 5/5
Max this, it will be your main damage skill.
(Thanks for the info abbadonxk)
Ice arrow 1/3
Pulling tool and a buff skill for your spells to cast faster upon hit.
Ice Thorns 1/5
Sub zero effect combine with Cold wave freezes your target. Pre-req for Ice Barrier which is easier to freeze enemies.
Magic mastery 5/5
Increases overall
all
your magic spell's damage.
Divine Punishment 1/5
Another spell to use for close combat to flinch enemies.
Revitalize 1/3
A healing spell that could be useful in PvE and PvP.
Tier 2
Flame Impact 5/5
Max this to combo with Rapid Blasts.
Meditation 1/3
You run out of EP, using lv 1 on it to recover it back.
Tier 3
Flame orb 1/3
Leave it at 1 to unlock meteor. Use this only to knockback enemies.
Ice orb 1/3
Same thing goes here to unlock Cold Wave. Use this to slow enemies.
Ice Barrier 1/5
Lv 1 is enough to freeze enemies with Cold Wave combo.
Tier 4
Pillar of Fire 4/5
Lv 4, unable to max it. Look at lv 40 build
Tier 5
Burning Meteor 2/5
Lv 2 is as much as we can go on lv 35 build. Look at lv 40 build
Flame armor 2/3
Lv 2 is as much as we can go on lv 35 build. Look at lv 40 build
Cold Wave 1/5
Lv 1 is enough to cause freeze effect on target with Sub Zero effect. A good crowd controll skill.
Tier 6
Crystallization 1/1
This is Sorcerer's evasive skill, max it for PvE and PvP usage by freezing enemies within range/radius.
Tier 7
Flame Tornado 1/3
Unblockable skill which is AoE effect. You can cast another spell while this is active. This may look like you are teleporting in PvP.
- Change log -
Removed -
-1 Wisdom, -3 Inticracy, -2 Elemental Harmony, -2 Imbalance.
Added -
+3 Rapid Blasts, +1 Flame Impact, +1 Meditation, +3 Pillar of Fire.
Reasons -
After reading Abbadonxk's opinion, I decided to drop 3 out of 4 passives skills, added up to lower cooldown on my main skills. I even removed the Wisdom skill because I'm focusing on damage and not on crit.